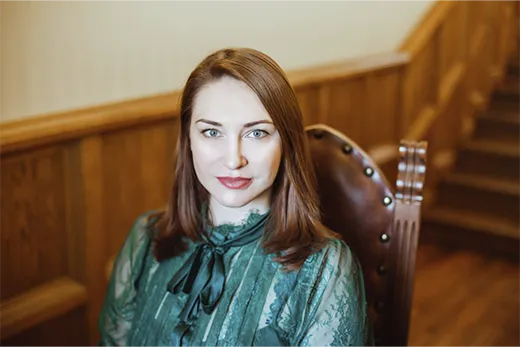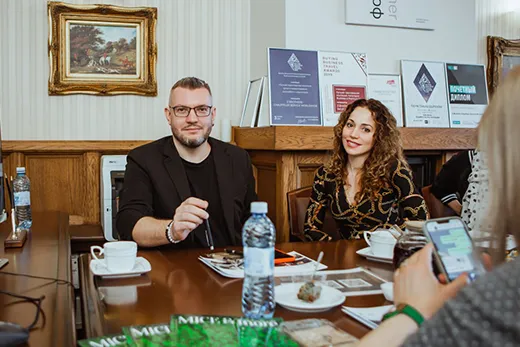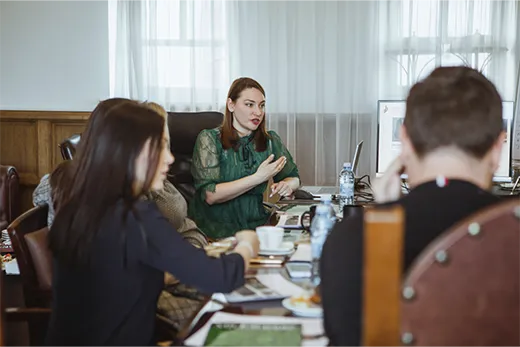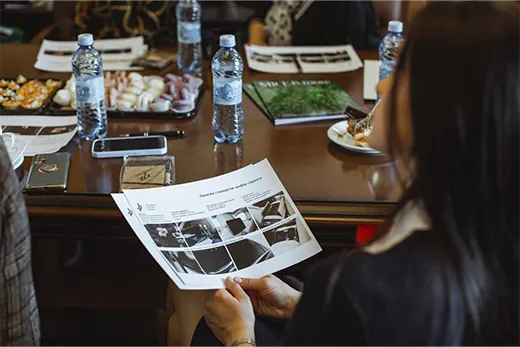 On April 6, an unusual Expert Council was held in the hospitable office of the transportation company Z.Brothers Chauffeur Service. Usually, its participants – the hosting party and subscribers of MICE&more – act on an equal footing. Each has their own 10 minutes to speak on the topic. However, this time Z.Brothers presented such strong expertise that our readers preferred to ask questions and provide examples from their own practice to get the expert's opinion. We offer you a few fragments from this two-hour meeting. First of all, let me introduce the participants of the Expert Council, these are Natalia Toriashvili and Nikolai Velichko (International Cultural Center named after S. Dyagilev), Ksenia Iskenderova (Corporate Travel), Olga Ilina-Melina (MICEvents), Vladimir Gabaraev (MICEVersa), Irina Boeva (independent security expert), and the meeting moderator – Anastasia Medvedeva, Community Manager of MICE&more.
The theme of the meeting was declared as transportation service in business tourism: changes, services, and news. The Business Development Director Elena Vazyulina not only prepared a presentation of the Z.Brothers company but also thoroughly introduced new directions, their specifics, gave examples of the features of the work and provided useful recommendations. We discussed how to maintain a high level of service, reduce complaints, and reviewed cases with transportation service of events, business trips. It was an active exchange of experience (including working on mistakes).
Irina Boeva: "I went with the mindset of a very productive meeting, and my expectations did not deceive me. The story of the service's inception 'from scratch', maintaining it at a decent level and constant improvement, competent management and control – an example that you want to take as a basis in your projects. Colleagues showed how personnel selection takes place, presented their training material, shared checklists for checking and preparing TC. Members of the expert council asked questions and as feedback shared thoughts and ideas that may find further development and will be applied to the horizons of top service and Z.Brothers geography".
Elena Vazyulina: "I will briefly tell you about the company – not from an advertising point of view, but to explain why we are experts in the market. For over nine years, we have been specializing in the VIP and top management segment. We started as a company working with expatriates, so from the very beginning we were focused on international service standards.
The concept of chauffeur service came to us from Europe (in the USA it's limousine service). Since 2013, the Z.Brothers company has been contributing to the establishment and development in Russia and the CIS of the concept of chauffeur service – a guaranteed high level of service of personal drivers in premium and business class cars for VIP clients. At the same time, we very quickly went beyond the narrow positioning on business trips and private trips, and large events – Russian and international, for which a high bar of service is very important, appeared in our business. Without exaggeration, it can be said that our drivers correspond to the 5* level.
We try to maintain a complaint rate of less than two percent with an average of 15% in the market. Of course, they cannot be completely avoided, as there is a human factor, but we react quickly. The main thing for us is a satisfied client. I myself, as a secret shopper, traveled with colleagues to more than 16 countries to check our potential and existing partners. I'm like Lena Flying – I always leave the airport with a phone and take a lot of videos and photos.
If before the pandemic Russia and Europe accounted for 90% of our turnover, then today most of this share has moved to Asian and Middle Eastern countries. These are the Emirates, Saudi Arabia, Bahrain, Oman, very high demand for Turkey, India, demand is growing for China, African countries, regular requests are starting to come for Iran. Many events take place in the CIS countries, especially in Uzbekistan."